Mareile Moeller
Agent Beate Mittermayer Phone: +49 -89 -1271 7377 Email
YEAR & PLACE OF BIRTH
1978 in Braunschweig, Germany
NATIONALITY
German
LOCATION
Berlin, Germany | Potsdam, Germany
ACCOMMODATION
Hamburg
HEIGHT
170 cm
EYES
Brown
HAIR
Blonde
EDUCATION
1999-2003 Acting school Ernst Busch in Berlin
LANGUAGES
English fluent | French fluent | Spain fluent | Turkish basic
DIALECTS
Northern German native | Berlin Accent
VOICE
Mezzosopran
SINGING
Classic | Chanson | Pop
SPORTS
Tennis | Horse Riding
DANCING
Ballett
MUSICAL INSTRUMENTS
Violin | Guitar
DRIVING LICENCE
Car
Film Selection
2018
SOKO München - Schärfer als die Polizei erlaubt | ZDF TV Series | Director Bodo Schwarz
2015
SOKO Wismar - Millionenerbe | ZDF TV Series | Director Sascha Thiel
2014
Kripo Holstein | Continuous Leading Part Detective Nele Wittkamp | ZDF Series | Directors Daniel Drechsel-Grau & Zbynek Cerven
2013
Notruf Hafenkante - Kampf der Herzen | ZDF TV Series | Director Oren Schmuckler
2012
SOKO Wismar - Steckschuss | ZDF TV Series | Director Oren Schmuckler
Spuren im Sand | ZDF TV Series | Role Dr. Daphne Jäger | Directors Conny Dohrn, Axel Hannemann & Seydan Derin
2011
Die Rosenheim Cops - Jagd auf Watzmann | ZDF TV Series | Director Werner Siebert
2010
Flemming - Rasende Wut | ZDF TV Movie | Director Bernhard Stephan
Unser Charly - Mütter und Töchter | ZDF TV Series | Director Axel Hannemann
2009
Ein starkes Team - Im Zwielicht | ZDF TV Movie | Director Ulrich Zrenner
Alisa - Folge Deinem Herzen | ZDF Series | Role Dr. Katja Hartmann | Directors Walter Franke, Axel Hannemann & Petra Wiemers
2008
Die Rosenheim Cops - Jung, schön, fit und tot | ZDF TV Series | Director Jörg Schneider
Hallo Robbie - Robbie und der Räuber | ZDF TV Series | Director Monika Zinnenberg
2006 - 2007
Wege zum Glück | ZDF TV Series | Continuous Leading Part Viktoria van Weiden |
Director Walter Franke u.a.
2006
Hinter Gittern - Der Frauenknast | RTL TV Series | Guest Role | Director Oren Schmuckler u.a.
2002
The Perfekt Lunch | Short Film DFFA Berlin | Leading Part | Director Lawrence Tooley
Stage Selection
2005 - 2006
Der eingebildete Kranke | Düsseldorfer Schauspielhaus | Role Angèlique | Director Helmut Lohner
Ernst ist das Leben | Düsseldorfer Schauspielhaus | Role Gwendolyn | Director Patrick Schlösser
2004 - 2005
Süden | Düsseldorfer Schauspielhaus | Role Regina | Director Patrick Schlösser
2002 - 2003
Das Käthchen von Heilbronn | bat-Studiotheater Berlin | Role Kunigunde | Director Anna Bergmann
2001 - 2002
Das Sparschwein | Deutsches Theater Berlin | Rolle Leonida | Regie Patrick Schlösser
Mareile Moeller has a B.F.A. in Drama  from the prestigious Ernst Busch Drama School in Berlin. While studying at Ernst Busch she was given the leading role of Leonida in Eugene Labiche's play Das Sparschwein at the Deutsches Theater. Furthermore she played the Kunigunde in Käthchen von Heilbronn at Berlin's BAT Theater under the direction of Anna Bergmann. Upon graduation, Mareile Moeller was a guest at the Schauspielhaus Düsseldorf for three seasons until 2006. There she took on the role of Gwendolyn in the German premiere of Elfriede Jelinek's Ernst ist das Leben and role Regina in Süden by Julien Green. Actor and director Helmut Lohner saw Mareile Moeller on the opening night of Ernst ist das Leben and decided to cast her right there as Angelique in Molière's The Imaginary Invalid. Since 2006 she has been accepting leading and supporting roles in several TV productions, among them Flemming (dir. Bernhard Stephan), Ein Starkes Team (dir. Ulrich Zrenner), Rosenheim Cops (dir. Jörg Schneider and Werner Siebert) and SOKO Wismar (dir. Oren Schmuckler). In the season 2015 was Mareile Moeller to see in the leading role, as the sympathetic detective Nele Wittkamp of the ZDF series Kripo Holstein – Mord und Meer.
Due to her versatile voice, Mareile Moeller works very successfully as a voiceover artist for silver screen productions like Smashed with Mary Elizabeth Winstead or Safe Haven by Lasse Hallström.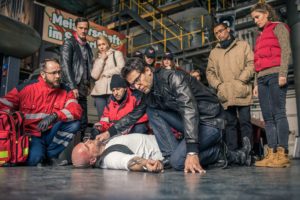 First broadcast
Monday 17. December 2018
at 6:00 pm on TV station ZDF
Director Bodo Schwarz
∗∗∗∗∗
2018 by © Nik Konietzny
∗∗∗∗∗
GETTING OUT … english movie scene
online since November 2017
∗∗∗∗∗