Tobias John von Freyend
Agent Beate Mittermayer Phone: +49 -89 -1271 7377 Email
YEAR & PLACE OF BIRTH
1993 in Munich, Germany
NATIONALITY
German
LOCATION
Munich | Berlin
ACCOMMODATION
Hamburg | Cologne | Seattle | Washington | Vienna | Paris | Frankfurt
HEIGHT
177 cm
EYES
Green-Brown
HAIR
Brown
EDUCATION
2013 - 2016 Acting School Zerboni
AWARDS
2018 Audience Award for "Wackersdorf"
2016 Nomination Sophie Opel Price 2016 | Competition Filmfest München
2015 Maxpreis - Award of Munich´s private acting schools
2007 Kids Media Price "Der weiße Elefant" | Super RTL - Fairplay with Philipp Lahm
LANGUAGES
English perfect | French good | Spanish basic
Dialects
Saxon native | British English | American English
VOICE
Tenor
SINGING
Education in Classical Music | Modern
SPORTS
Tennis | Ski | Snowboard | Juggle | Stage Combat | Platform Diving u.a.
DANCING
Education Ballroom Dance | Contact Improvisation
DRIVING LICENCE
Car
Film Selection
2019
Fenster zur Welt | Short Film | HFF Munich | Director Silvia Zeitlinger
2018
Hubert und Staller - Eine smarte Dame | ARD TV Series | Director Anna-Katharina Maier
10 Schritte | Shortfilm Bavaria | Director Ivan Ernst
2017
Wackersdorf | Feature Film BR Arte | Director Oliver Haffner
Süddeutsche Zeitung Publikumspreis 2018
Mama allein zu Haus | ZDF TV Movie | Director Helmut Metzger & Simon MacCann
Pole Girl | Short Film | Director Korbinian Dufter
2016
Die Rosenheim Cops - Applaus für eine Leiche | ZDF TV Series | Director Werner Siebert
AI | HFF Short Feature Film | Director Daniel Irvin Bier
Marie! | HFF Short Feature Film | Improvisation actor & camera | Director Daniel Irvin Bier
Hot Deal | HFF München | Miroslav Mandic Seminar | Director Korbinian Kalleder
Our Crazy Familiy (AT) | Pilot SAT.1 TV Movie | Director Joseph Orr
2015
Fluch des Falken | KIKA TV Series | Director Kirim Schiller
2007 - 2008
Paul Panzer präsentiert - Die unglaublichsten Geschichten | DVD Episodes | Director Matthias Kessler & Satu Siegemund
2007
Fair Play | TV Movie | Director Michael Turbinsky

2006 - 2007
Disney Channels Comedy Crew | Disney Channel Series | Director David Gromer
Stage Selection
2016
Bandscheibenvorfall | Role Kretzky | Volkstheater München | Director Miguel Abrantes Ostrowski
In der Stunde des Luchses - Monolog | Role Der Junge | Volkstheater München | Director Thomas Meinhardt
2015 - 2017
Staying Alive | Role Tobi | Schauspielschule Zerboni | Director Ercan Karacayli
Awarded Max Preis
2015
Hier kommen wir nicht lebendig raus | Role Jakob | Theater an der Theresienwiese, Munich | Director Ercan Karacayli
Blut am Halse der Katze | Role Soldier | Theater an der Theresienwiese, Munich | Director René Oltmanns
Antigone | Role Haimon | Theater an der Theresienwiese | Director Jörg Witte
2014 - 2015
Der König und die Kaiserin | Role King Ludwig II | City Starnberg | Director Kim Märkl
Synchronously Speaker
2016
Peter Pan - New Adventures | Role John | DQ Entertainment
2015
The Imitation Game | Role young Alan Turing | Director Morgen Tyldum
Soy Luna | Role Nicolás | Pol-ka Producciones
Die Cybermights - Der Fall der Ann-Kathrin | Role Jakob | mmc Agentur für interaktive Medien
2014
Mighty Med - Wir heilen Helden | Role Alan Diaz | Director Gregory Hobson | It´s a Laugh Production
2013
Die wilden Kerle | Role Leon | Wunderwerk
2010 - 2013
Game of Thrones | Role Joffrey Baratheon | Director Alan Taylor
2010
The Chronicles of Narnia - Voyage Of The Dawn Treader | Role Edmund Pevensie | Director Michael Apted & Walden Media
2006 - 2008
Hannah Montana | Role Rico | Synchronous Director Solveig Duda
2007
Harry Potter und der Orden des Phönix | Role Michael | Synchronous Director Frank Schaff
2005 - 2007
Pettersson und Findus | Role Findus | Synchronous Director Ursula von Langen

Tobias John Von Freyend bears a Swedish name, was born in Munich, spent time together with his grandfather in the state of Saxony, and his ancestry is a quarter English and Spanish each.  His diverse backgrounds reflect in both his personality traits as well as in his talents and skills.  It was by plain coincidence that his vocal talent was discovered hence giving him the opportunity at the age of 11 to lend his voice to the character of Jack Llewelyn Davies in the biographical family drama Finding Neverland.  Many other jobs in that line of work were to follow for highly successful productions like the Chronicle of Narnia series,  Hannah Montana, the Harry Potter series, and Pettersson und Findus.  In 2007, Tobias received the Youth Media Award "Der Weiße Elephant" honoring his work for the project "Fair Play" alongside German soccer star Philipp Lahm.  Subsequently, in 2013, he began with his acting studies which he completed successfully in 2016.  Together with his fellow acting students he grabbed the Maxpreis 2015 for the stage production Staying Alive under the direction of Ercan Karacayli.  The award is regularly given to private acting studios in Munich for their artistic achievements. In front of the camera, Tobias turns on his charm with invigorating energy and the excitement never stops once you start watching him perform.  Students at the prestigious Munich Film School HFF have already taken notice and only recently Tobias got to work for the TV series Der Fluch des Falken. Tobias John Von Freyend has incredible acting talent and what's more, he can play a wide age range and has undergone working experience in the entertainment industry at a young age. I am convinced that Tobias is going to make his presence felt and directors will be delighted to work with him.
cinema premiere
20. September 2018
Director Oliver Haffner
∗∗∗∗∗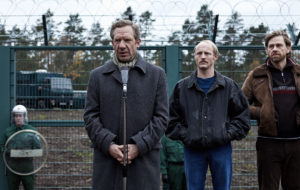 Friday 29. June 2018 at 6:00 pm
Sendlinger Tor Kino
Tuesday 03. July 2018 at 10:00 am
Atelier 1
Thursday 05. July 2018 at 10:00 am
HFF Kino 1
Director Oliver Haffner
∗∗∗∗∗
First broadcast
Sunday 21. January 2018
at 8:15 pm on TV station ZDF
Director Helmut Metzger
∗∗∗∗∗